Shibata Black Yuzu Sake · 200ml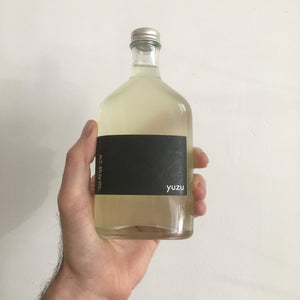 A refreshing, sweet and tart yuzu-infused sake made with all estate-farmed organic yuzu fruit and a clean and aromatic Junmai sake base, made using a rare rice varietal Ginpu from Hokkaido and local exceptionally soft Kanzui water. The yuzu is squeezed with the skin left on, thereby allowing for the juice to not be too sweet, with an added touch of tartness. Each individual yuzu fruit yields only about 20ml of juice.
Shibata Shuzo was established in 1830 in Okazaki City, Aichi Prefecture, and is currently led by the Shibata family's 8th generation President. The village is called, "Kanzui" or "God's water." The water itself is outstandingly soft (water hardness of 0.2), and is one of the softest waters in all of Japan. Shibata uses this Kanzui water for every step in the sake production process, including for Shikomi Mizu, or preparation water. Led by Shizuka Ito, one of very few female Toji (brewery master) in Japan, Shibata sits at an elevation of 350 meters above sea level, and thereby benefits from cool summers and extremely cold winters.
Sake Brewery Shibata Shuzo, Okazaki City in Aichi Prefecture
Recommended temperature  Best served chilled.  
Recommended dishes  Pairs well with vanilla and other sweets
Grade  70% rice polish ratio (seimaibuai)
Alcohol  8%
Rice  Ginpu (Hokkaido)
Yeast  K7
Water  Kanzui (God's Water)