Sliabh Liag, Silkie Dark Blended Irish Whiskey · 750mL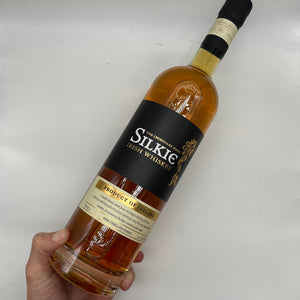 A rich, smoky blend loaded with character. Non chill-filtered and bottled at 46%, the whiskey is incredibly smooth with a stunning natural sweetness. Fresh apple and pear with spiced dry smoke on the nose. To taste a softness develops to a rich salted caramel sweetness. Waves of sweet pipe tobacco, liquorice and dark chocolate give way to warm toffee and pear.
Sliabh Liag Distillers is the first distilling company in the county of Donegal for over 175 years. They were established with the purpose of reclaiming the distilling heritage of Donegal.
Sliabh Liag is found beyond Killybegs where people have historically battled both climate and hardship to fashion a living from an uncompromising landscape. Where the stories were told of the Silkie seals: the legendary shape-shifters who shed their seal skins to come ashore as beautiful sea maidens or handsome men with enchating voices, only to eventually return to the sea leaving broken hearts.