St Agrestis, Negroni · 1.75L Box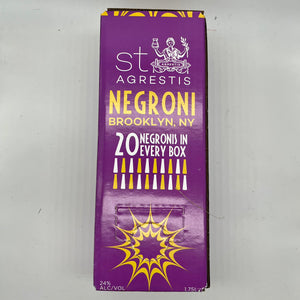 At St. Agrestis, we are Negroni obsessed. That's why in 2020 we released our adored St. Agrestis Negroni in it's newest format, the 1.75L Negroni Fountain. Each fountain is packed with 20 3oz. bar quality Negroni cocktails that stay fresh in your fridge for 4 months after opening.
Our St. Agrestis Negroni Fountain is a combination of St. Agrestis Inferno Bitter, house-made Torino style vermouth and Greenhook Ginsmiths American Dry Gin. Together, our Negroni makes for a perfectly balanced, bitter, boozy and refreshing cocktail that fits right next to your water dispenser in your fridge.
Best served over ice with an orange twist, the St. Agrestis Negroni drinks with the same bitterness drinkers of the cocktail expect, but with more layered herbaceousness and freshness. Or for a bubbly, lower ABV option, top with Prosecco for a Negroni Sbagliato.