Richard Stavek, Odmery (2016)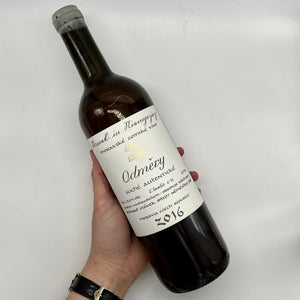 The Odmery is a beaut, from a very small old-vine plot of Pinot Blanc and sprinkle of Chardonnay with incredibly small yields. All farmed by Richard, hand harvested, whole cluster, spontaneous ferment for 20 days, foot stomped, followed by 10 months in neutral oak. No SO2.
Bouquet of herbs, vegetal, ripe plantain, mango, star anise, tomato leaf. Lush and silky with ripe, juicy fruit notes. Tannic structure complemented with refreshing acidity.
Richard Stavek is a true visionary in the Czech Republic. He's also one of the hardest workers I know. It is incredible how much he can accomplish in his tiny cellar (part of a UNESCO site!). His wines are pure, exciting, and contemplative. When meeting him, you would be suprised by his talent because he his incredibly humble. You'll never be disappointed with one of his wines, they will take you on a journey.