Richard Stavek, Ryzlink Vlassky (2019)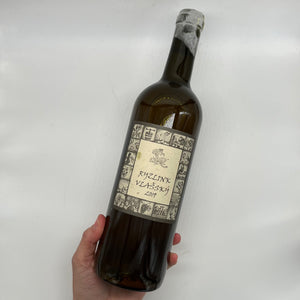 The Kolberg vineyard was planted in 1973. Focussing only on Riesling Vlassky or Welschriesling  - the wine has a deep yellow, golden hue. Delicate and supple, with a long finish and gentle grip on the palate - delicious. Great with food or just on its own too. 2019 was a very challenging vintage, battling rain during harvest, field mice, wild boars, you name it. Because of the challenges we're excited to drink what we can from this vintage.
Richard Stavek is a true visionary in the Czech Republic. He's also one of the hardest workers I know. It is incredible how much he can accomplish in his tiny cellar (part of a UNESCO site!). His wines are pure, exciting, and contemplative. When meeting him, you would be suprised by his talent because he his incredibly humble. You'll never be disappointed with one of his wines, they  will take you on a journey.