Strekov 1075, Vavrinec (2020)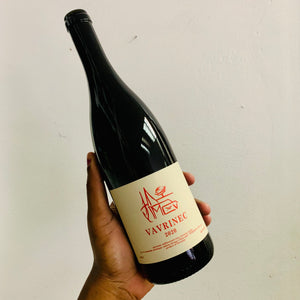 Winemaker's note: "The St.Laurent variety has Pinot Noir in its pedigree and is very sensitive to the weather. It is an early-ripening variety with thin skin and compact bunches; all these factors have an impact on the health of the grapes. Each year at the end of August, it becomes clear if the vintage is a "Rozália" or a "Vavrinec vintage", based on the readiness of the grapes for further maturation: healthy grapes allow us to keep them on vines for longer and use them for this earthy, elegant red."
Grape: Svätovavrinecké aka Vavrinec aka Saint Laurent
Vineyard: Vád, certified organic and farmed by Zsolti himself. Head-trained, planted in 2011. Clay-loam topsoil with a high level of calcium on marine sediments. 
Making of: the grapes were handpicked. Fermented for a few weeks, no added selected yeasts or other additives, no temperature control. The free-run juice spent 10 months in old 500 l oak barrels. Bottled by gravity without fining, filtration or SO2 the following summer. Only 1200 bottles made.
Personality: showing full beauty of the variety – its elegant acidity, fruitiness and light earthy taste.