Strohmeier, Cat Silver (NV)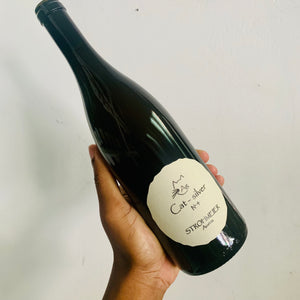 "Cat-silver" is how the Strohmeiers call the silicate stones with very thin layers sparkling on the soil of all their vineyards. A perfect name for a wine that shows all varieties of grapes and vineyards they work with.
Varieties: all grapes found in across all the Strohmeier vineyards, including some PiWi hybrids. White grapes (Sauvignon blanc, Pinot blanc, Chardonnay, Bronner, Muscaris, Büten-Muskateller) as well red grapes (Souvignier gris) and dark grapes (Zweigelt, Blauer Wildbacher, Cabernet Jura, Merlot, Rösler, Regent).
Vineyards: blend of St.Stefan, Stainz, Bad Gams plots. Opok (limestone marl), gneiss
Making of: blend of skin-fermented and direct-press grapes. Spontaneous alcoholic and malolactic fermentation in wooden casks. The wine is bottled after 8 months (= early by Strohmeier standards), with a small dose of sulfur (15 mg/l). No fining or filtration.
Personality: hazy fun co-ferment. Fruity, with distinct tannic structure, good liveliness.