Succes Vinicola, Cuca de Llum (2020)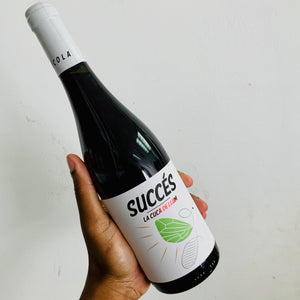 Catalunya, Spain -- Reminiscent of Jura reds or Schiava, Cuca de Llum is a wine made thinned skin variety Trepat, a grape that was originally used just for the region's cava and only vinified into a red a decade ago. Lively wild red fruit notes with notes of anise, pepper, and forest floor. Vibrant acidity, velvety tannins, and spice to tie it all together.
Succés Vinícola was started by Mariona Vendrell and Albert Canela in 2011 at ripe age of 20! They source a lot of grapes from organic vineyards owned by local grandparents and continue to push the boundaries in the region. Cuca de Llum is made from 40 year old bush trained Trepat grown on calcareous clay at about 400 meter elevation. Spontaneous fermentation in steel followed by 30 days on the skins and 5 months on the lees in steel. Low SO2 at bottling.