Sugii Shuzo, Suginishiki Tamazakae Sake (NV) · 720mL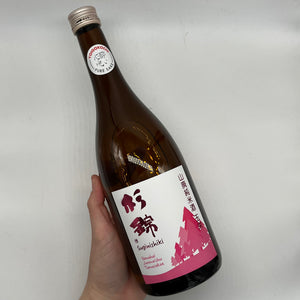 This Suginishiki is made with the Yamahai starter method. Yamahai is a brewing method, that along with the Kimoto method, is generally only used used in specialty brews by artisanal breweries due to the extra brewing time and added risk in requires.
This is a sake with a more robust character. It is made with Tamazakae rice, which gives the resultant sake an earthy, almost herbal character. Here we see notes of butterscotch and spice, while the palate has an earthy, mineral character with a touch of fresh herbs.
 The unique aspect with Sugii-san is that he is entirely self-taught when it comes to Sake-making, choosing to follow a path of experience over study.
He is a philosophical brewer and with each brew he is not looking to determine the destination of the finished product but rather he experiments and adjusts as he goes with the idea of achieving different outcomes in each Sake in each year.
RICE TYPE: Tamazakae
RICE POLISHING: 60%
ALCOHOL: 15.5%
YEAST STRAIN: #7
SERVE: Chilled