Tauss, Weissburgunder Vom Opok (2020)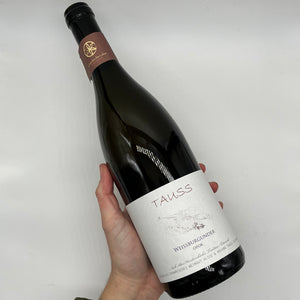 A pretty white that benefits with a decant. Salty peach, lemon sherbet, green almond. Smoky minerals and a creamy finish.
Vineyard: the lower part of the Hohenegg hill. Vines planted in 1982 on Opok soil – limestone and clay silt. One-wire trellising system, quite typical for Styria. Certified biodynamic, estate owned.
Grapes: Weissburgunder aka Pinot Blanc
Making of: Grapes are hand-harvested into small crates, with manual selection in the vineyard. Destemmed, left on skins overnight, and then gently pressed in open pneumatic press. Both the alcoholic and malolactic fermentations happen spontaneously in old neutral French barriques and 300L barrels. The wine spends about 12 months in total neutral oak casks. Bottled without fining or filtration, no sulfur added.