Terracanta, Vallecaia (2021)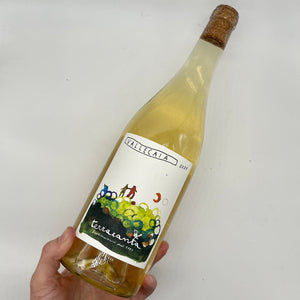 Malvasia di Candida and Putinata with a short maceration on the skins followed by 6 months in Georgian qvevri buried underground. Not your typical floral Malvasia, this one has a round and creamy texture with notes of almond to complement the fresh fruit. Carlo and Lucia farm 15 hectares of land biodynamically. Located near Lake Albano, the estate is comprised of volcanic soil and is host to vines, olive groves, and kiwis (!).
The two Malvasia clones are 60 years old. Unfined, unfiltered, no additives. Carlo and Lucia are farmers first and their passion results in crystalline natural wines.