Terre di Pietra, Piccola Peste (2020)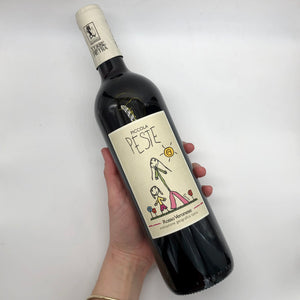 The "Piccola Peste" or the problem child is a declassified Valpolicella from the hilly region of Marcellise just east of Verona. Sour cherry, beet root, wild flowers, hops, raspberry. Lots of texture to this bright and lively juice. This is a fun one. Enjoy with a chill.
The soil is very stony here and the vineyards are at an elevation of 500 meters. Laura Albertini established the estate in 2007 and always made pure, playful, and unadulterated wines in a region often known for incredibly concentrated, intense wines. After her tragic passing, her husband, who had no experience with winemaking, took over to honor her passion. He is doing a pretty darn good job, we love this wine. Of course, label art by their children.