Tokki, White Label Soju · 375mL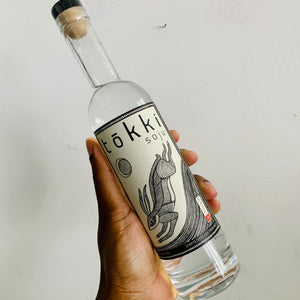 Light tapioca pudding
● Hint of vanilla
● Light earthiness
Vegetal when neat at room temp
Made in the traditional Korean way with
modern equipment. No chemicals,
additives, or sugars added.
Our goal is to make soju an internationally respected spirits category by staying
true to Korean tradition while incorporating global distilling standards.
We want to stand shoulder to shoulder with other spirits around the globe.

Soju crafted by Tokki Soju in Rohnert Park, California
Produced from glutinous rice locally sourced from Sacramento Valley
Seven- to ten-day parallel fermentation using

 

nuruk, a starter made from milled barley inoculated with yeast
Distilled twice in a copper hybrid still
A bright nose expresses freshly cut grass, guava, white tea, and grape must. Light and refreshing on the palate with sweet, grassy notes of papaya leaf anchored by savory undertones of sticky rice and tapioca with a hint of vanilla on a crisp, dry finish
No sweeteners or additives
23% ABV
A return to traditional soju production, Tokki Soju's flagship White Label catapulted the distillery from a humble, small-batch operation to an internationally acclaimed soju brand. An excellent accompaniment to food, enjoy this expression neat—chilled or at room temperature—or in low-ABV cocktails.