Vinca Minor, Light Red Mendocino (2022)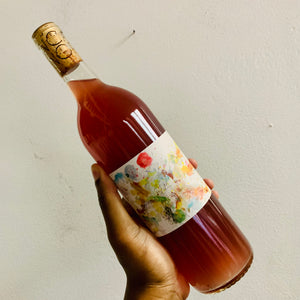 Super zippy and crunchy co-ferment of red and white grapes. Papaya, hibiscus, caramel. 
Sauvignon Blanc (60%), Cinsault (25%) and Grenache (15%) from Organic vines in Redwood Valley. Crushed in the same facility as Donkey & Goat (Tracey Brandt).
All the fruit was de-stemmed and fermented together, naturally in small open-top fermenters. Pressed and aged for 7 months in neutral French oak. Jason Charles spent time after College working as a photographer in the US, Mexico, and Europe. He caught the wine bug waiting tables in New York City restaurants. After experiences working in vineyards in Saint Emilion in Bordeaux and the Sonoma Coast, Jason started the Vinca Minor label to "explore the intersection between farmer, winemaker and artist." He believes in organic farming, and attempts to make the wines as naturally as possible, always working with indigenous yeast, never filtering or fining, and racking only once before bottling. Jason started last year with a special plot of very old carignan vines in Redwood Valley, Mendocino, and will harvest a second vineyard of Merlot in Napa Valley in 2014 for the first time.