Walcher Aperitivo Rondo Spritz · 750mL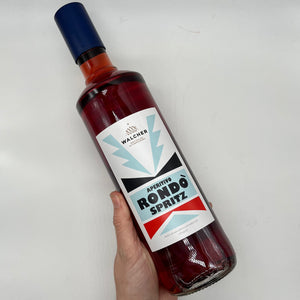 The Northern Italian artisan distillery specializes in local alpine bittersweet liqueurs. All organic ingredients are used. Its character is enhanced with the addition of organic elderberry extract. 
Bitter nose with pronounced notes of gentian and mountain flowers along with wild strawberries, candied orange peels and ruby grapefruit. Bittersweet with a medium body.
Organic neutral wheat spirit macerated with botanicals such as gentian, rhubarb and wormwood. After maceration the botanicals are separated and organic cane sugar, organic Sicilian lemon juice, organic elderberry extract are added.