Wild Arc, Skin Contact Piquette Can · 375 mL (2021)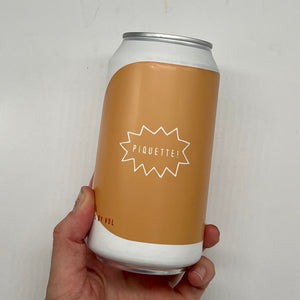 This is a local Piquette-style orange wine in a convenient can, a  perfect warm-weather sipper!
Piquette is what you get when you utilize leftover must, stems, and seeds from the winemaking process to make a low alcohol, slightly tart and fizzy wine that you can sip on a nice day without getting drunk. Wild Arc Farms in the Hudson Valley helped bring back this ingenious (and sustainable!) style of wine.