Zillinger, Numen St. Laurent Rose (2020)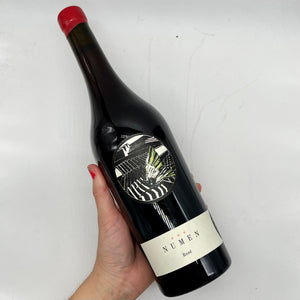 The Numen Sankt Laurent Rose comes from a tiny parcel of Sankt Laurent planted at the top of the Steinthal vineyard in 1922. This is not a rosé in the conventional sense. Rather, this is a light-colored, yet mind-bogglingly complex red wine made by semi-carbonic whole-cluster fermentation in amphora, then left to rest for 8 months in the same vessel. There is a gentle extraction of color. The wine is then decanted into 500-liter barrels of acacia and oak for 4 months before being bottled without fining or filtration. This old vine St. Laurent from amphora has juicy bright berry fruit which almost leaps out of the glass. The texture is as silky as a Pinot Noir and as full and brambly as a Syrah. This is a unique and stunning wine that simply must be tasted to be believed.
Light red or a dark rosé, this is on you to decide, as this white transcends boundaries of classification. Rather, it redefines the variety of Sankt Laurent, showing essentially, a dark brooding side, filled with dark cherry and violet, and a light, vibrant and mouthwatering side with white raspberry and tamarind. Beautiful texture, too.